5 Star Rated Guinea Pig Vet Chat
Ask A Guinea Pig Vet
Live Chat
Guinea pigs can be difficult to care for, but we're here to make it easy! Find all the necessary information to ensure your cavy lives a long and happy life. Talk to a guinea pig vet now!
Ask A Guinea Pig Vet - Live Chat
Caring for guinea pigs can be quite difficult, and it can be challenging to find reliable advice. At Easy Vet Answers, we have extensive knowledge about the responsibilities involved and are ready to offer our support. You don't have to bear the burden of ensuring the well-being of your adorable pets alone. Get started by consulting a Guinea Pig Vet today to guarantee their health and happiness.
How Does Asking a Guinea Pig Vet Work
With our Live Guinea Pig Vet Chat, you can get instant answers to all your guinea pig-related queries. Our team of experienced guinea pig specialists is always on standby to offer guidance, ensuring that you provide the best care possible for your cute little friends. We are available round the clock, providing you with the assurance that your guinea pigs are receiving the love and attention they deserve.
Our Most Popular Services
We offer many options for our customers. Not everyone has the same kind of pet, some have teeny tiny dogs and others huge galloping horses. We let you speak to an expert for each kind of pet you have. Choose the one you need and get started with a 1 on 1, 24/7 live vet chat.
Ask A Guinea Pig Vet Reviews
Don't just take our word for it! See what some of our satisfied Ask A Guinea Pig Vet customers have to say. Simply click on the tab to peruse through all the testimonials.
4.5 out of 5 stars (based on 55 reviews)
I decided to try an online vet chat…
When my guinea pig was experiencing some breathing problems, I decided to try an online vet chat. The vet knew exactly how to handle the situation and guided me through the process. I can't thank them enough!
The live vet chat was a lifesaver…
The live vet chat was a lifesaver when my guinea pig had a foot issue. They gave me advice on what to do, and my little buddy was up and running again soon after.
guinea pig had mites…
When my guinea pig had mites, I turned to this service to talk to a vet. They suggested the right treatment, and my guinea pig was back to normal in no time. Forever grateful!
Online vet chat service is awesome!
This online vet chat service is awesome! They gave me spot-on advice about bedding choices for Mr. Nibbles, and now he's enjoying his comfy new setup.
I had concerns…
I had concerns about my guinea pig's dental issues and stumbled upon this service where you can chat with a vet online. They were able to provide me with valuable information that made a huge difference. So glad I found them!
Talk To A Guinea Pig Vet online for personalized assistance.
Use our Talk To A Guinea Pig Vet live chat to get all the bunny answers you need. Join a live vet chat and ask a question to a vet, receiving instant responses in real-time. It's that simple.
Check Out Our Guinea Pig Articles
Explore our guinea pig-themed articles and uncover interesting facts, perspectives, and information that you may not have come across before. Alternatively, if reading isn't your preferred method or you can't find the information you're looking for, you can always consult with a vet right away for your guinea pig concerns.
Welcome to our comprehensive guide on guinea pig respiratory infections. As guinea pig owners, it's crucial for us to understand the health issues that our
In the world of guinea pig care, understanding the nuances of their health is paramount. One such nuance is sneezing. While an occasional sneeze might
Guinea pigs are adorable and sociable pets, but like any other animal, they can sometimes exhibit behaviors that concern their owners. One such behavior is
Check out our veterinarian answers. These articles are made from real customer questions. All asked through our live vet chat feature.
As pet owners, we often find ourselves in situations where we have questions about our pet's health and well-being. Whether it's a sudden change in
When it comes to our furry friends, any sign of distress can be alarming. One such concern is when a dog is bleeding from the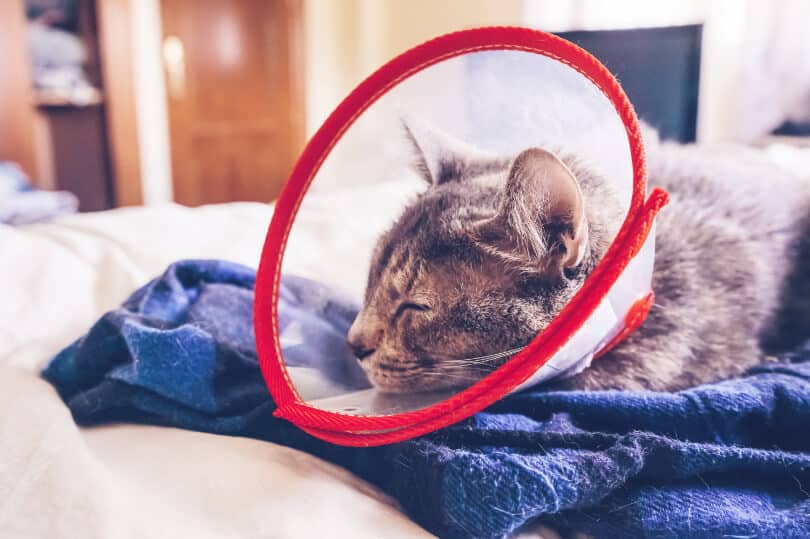 When your feline friend undergoes a surgical procedure, understanding post-operative care is crucial. One common question that cat owners often ask is, "How long do