5 Star Rated Live Cat Vet Chat
Ask A Cat Vet Live 24/7 Live Chat
Asking a Cat Vet online is the fastest way to figuring out the issue and getting back to having fun with your little cute bundle of fluff.
Talk To A Cat Vet Online: 24/7 Live Chat
Being a Cat parent can be difficult. Though you always try to make the best decisions for your fuzzballs health it can often feel overwhelming not knowing where to turn for reliable answers. Easy Vet Answers is here to let you know that you're not alone – at Easy Vet Answers we understand how challenging this task may seem and are here to help. So take the step and Ask A Cat Vet today and get your kitties health and well being back on track!
How Does Asking A Cat Vet Work?
Click the button to speak to a Cat Vet Live and get all the answers your heart desires. It's really that simple. A team of of experienced cat veterinarians is here to guide you every step of the way so you feel confident giving them all of the best possible attention. Available 24/7 so you can have peace of mind knowing your furry kitty is getting all of the love they need.
Our Most Popular Services
We offer many options for our customers. Not everyone has the same kind of pet, some have teeny tiny dogs and others huge galloping horses. We let you speak to an expert for each kind of pet you have. Choose the one you need and get started with a 1 on 1, 24/7 live vet chat.
Cat Live Vet Chat Reviews
Don't believe us? Have a look at what some of our happy Ask A Cat vet customers say. Just click the tab to see all the reviews.
4.5 out of 5 stars (based on 56 reviews)
They helped me find out why my cat was sneezing so much
So I used the ask a cat vet service for the first time, and it was amazing! They helped me find out why my cat was sneezing so much. Turns out allergies are common in cats.
Great Cat Information
The Vet I got was knowledgeable and fast to reply. She gave me the information I needed to know even though the problem itself wasn't solved.
Long Time Cat Owner
As a long-time cat owner I like to think I know a lot but there are still times when I seek advice from a pro. I love the Ask a Cat Vet online chat service – its fast and cheaper than me visiting a vet clinic.
New Kittens
I recently adopted 4 abandoned kittens and thought it was going to be easy. Turns out I was very wrong. There was so much I didn't know I needed to do, i used the ask a cat vet chat online and the Expert Cat Vets walked me through what I would need to do over the next few months to ensure my kittens are well looked after. Truly life saving.
Kitty No Longer Sick Thank You
My cat started to do some strange behaviors, I was very worried that something was really wrong. I searched google and had issues finding what I wanted. I used the Ask a Cat Vet live chat here and oh my god it saved me hours of time and if i did it earlier it would have saved me even more.
Talk To A Cat Vet Online For Dedicated 1 to 1 Support
Use our excellent ask a cat vet live chat to get the pet answers you need. Hop on a live vet chat and ask a vet a question and get answers in real time. It's that easy.
Check Out Our Purr-fect Cat Articles
Dig deep into our cat related articles and find interesting facts, ideas and information you never knew about. Or if you don't want to read or can't find what you need, you can always talk to a vet now about your cat issues. The live chat with a vet is always available 24/7.
As a lifelong cat lover and pet parent, I've experienced my fair share of mystery chomps and surprise attacks from ordinarily sweet kitties. If you've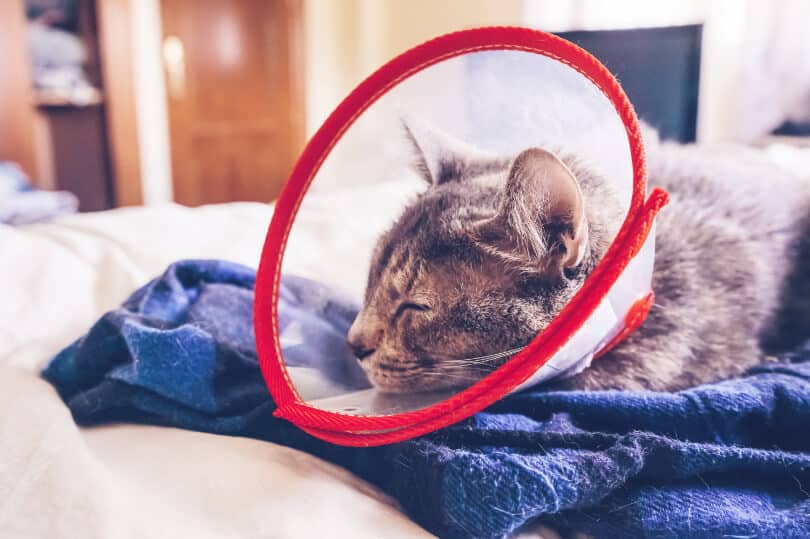 When your feline friend undergoes a surgical procedure, understanding post-operative care is crucial. One common question that cat owners often ask is, "How long do
As a pet owner, it's essential to be aware of the health issues that may affect your furry companion. One such concern is feline diabetes
Check out our veterinarian answers. These articles are made from real customer questions. All asked through our live vet chat feature.
As a lifelong cat lover and pet parent, I've experienced my fair share of mystery chomps and surprise attacks from ordinarily sweet kitties. If you've
As pet owners, we often find ourselves in situations where we have questions about our pet's health and well-being. Whether it's a sudden change in
When it comes to our furry friends, any sign of distress can be alarming. One such concern is when a dog is bleeding from the